Here we are again!! And in great style... yes, exactly, because we have been mentioned again on RLC's official
MySpace
! I copy and paste here the latest official blog, written this time by our "favourite beardy scotsman" (his words, so I'm not being outrageous here), Paul.
I must admit this is one of the funniest things I've read in a loooong time! I wish I could write with such a wit and humour! Enjoy!
martedì, giugno 16, 2009
June blog
Hello everyone!its your favourite beardy scotsman here! Now, firstly i feel i owe you an apology for the painfully long time its taken inbetween these wee blog updates. It's been an especially mental time in Red Light Land recently but we have our house back in order now and are ready to rock the festivals over this coming summer!So to our first order of business, we realise that many of you may have already noticed this, due to his absence at any of our recent gigs, but our good friend Shawn has decided to leave the band for his own personal reasons. There is no animosity or acrimony in his departure, the time was just right for him to move on to something new. We wish him nothing but the best and hope he is happy in whatever he does in the future. We have no plans to replace him and Chris is now our full time bass player and he has done very well learning all Shawns parts as i'm sure those of you who have seen him play would testify. Onward and upwards!Secondly we are excited that we now have a release date set for our next single. We are releasing Meccano on the 3rd of August. it should be back on your radio waves very soon indeed. And now back to tour world! We have been very busy boys out on the road of late taking in shows in the U.K., Ireland, Italy, Austria and France. We have in fact this week returned from playing Paris with the Maccabees. It was an amazing trip and the gig was without a doubt one of the best we have ever done. A big thank you to all you lovely Parisiennes for being so good to us and also to the Maccabees who are a tremendous bunch of chaps who we enjoyed partying with very much. While in Paris we also made time to indulge in a spot of gravespotting! both Jim Morrison and Oscar Wilde in one day! Also i saw the funniest piece of graffiti that i've ever seen on the side of Oscar Wildes grave where someone had written in lipstick 'SODOMY 4EVA' I'm certain Oscar would have taken exception to this due to the incredibly poor use of the English language in the way they spelt forever.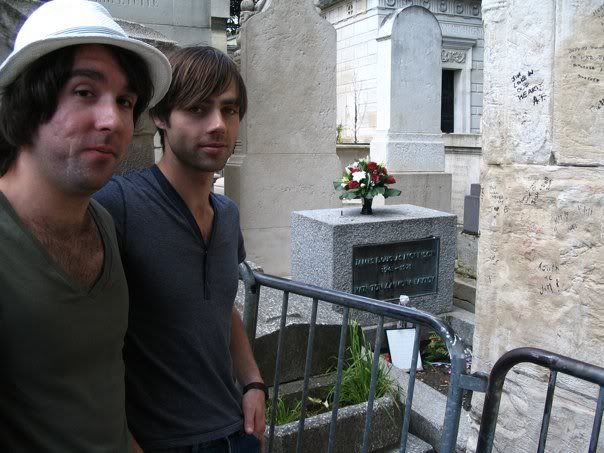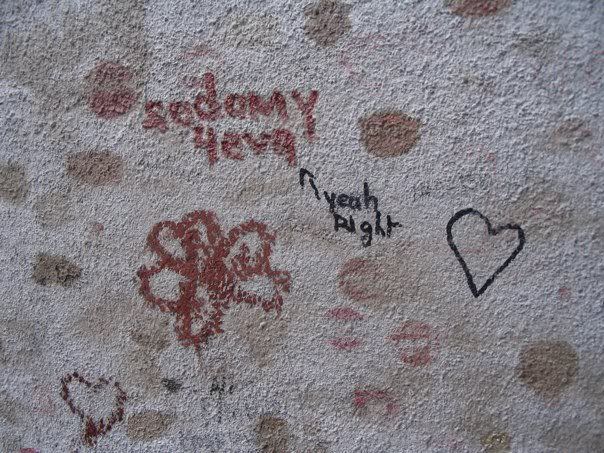 Other highlights from the road included our trip to Ireland which saw James and myself make our DJing debut in Dublin. It was a veritable 'Now Thats What I Call Music 4' of an evening. The highlight of our set was playing Justice and seeing the dancefloor go mental then playing a request for Biffy Clyro straight after and seeing the dancefloor empty completely. A lesson to be learned for any budding DJs, people generally dont like dancing to prog. Our trip to Austria saw our faithful tour manager Mido try his hand at a spot of snowboarding under the tuition of our very own singer, Rich. Now far be it from me to make any accusations but i think Rich might have tried to kill him as Mido had only been on the board for 30 seconds when he then fell over, landed on a rock, broke two of his ribs and then nearly got run over by a snow plough. We later that day all somehow ended up in a nudist spa in the hotel. Nothing like seeing your bandmates ding dongs to bring you all together. This may partly account for Shawns departure....this is us having a beer on top of an incredibly high mountain completely inappropriately dressed for the snowy conditions. i haven't had so many funny looks from people for wearing skinny jeans since i left Glasgow.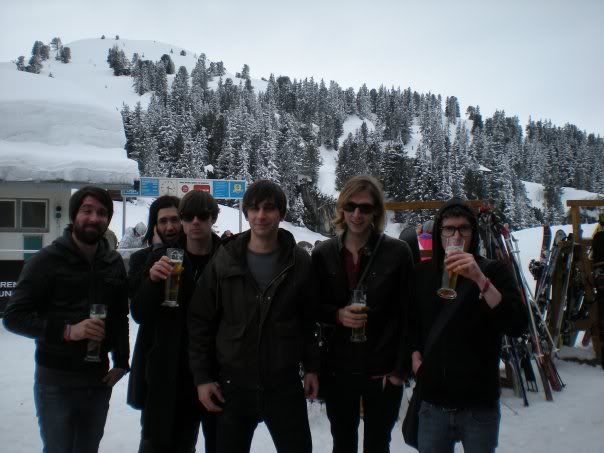 In Italy the highlight for me was seeing Chris asking in English for sausage on a pizza, being met with the blank stare of a waiter who could clearly could not speak a word of English then Chris repeatedly shouting SAUSAGE!!! at him in the hope that volume might overcome the inherant language barrier. it didnt work. A shout out at this point to our lovely Italian fans Cecilia and Veronica who came to see us in Bologna and enjoyed it so much that they even started an Italian fan blog for us which we are deeply grateful for. you can check it out at
redlightcompanyitaly.blogspot.com


Most recently we have just played an absolutely amazing show at the Oxford University summer ball. This gig culminated in our first ever stage invasion which was tremendous fun and also rather weird as all the people who came up onstage were dressed in tuxedos and ball gowns as you can see here...


Note the guys who are feeding me beer while we are still playing, its a skill im proud to have aquired, i never dropped a note!Im sure there about a million other stories just as worthy of being told about our travels but thats all i can remember for now so you'll just have to wait for more. Keep your eyes trained to our myspace for upcoming news on more festivals we will playing at over the summer. A massive thank you to all of you who've come to see us play recently too. Your love keeps us strong.I wont leave it so long between blogs again too i promise!
Love ya
RLC xxx
So basically, apart from the great fun reading this post, there are a couple of quite shocking news contained in it...
First of all, our suspects about Shawn have finally been confirmed. You might remember that since we started following RLC on tour last May we noticed the absence of Shawn, replaced by Chris, on bass. We thought that it would only be a temporary absence but now the guys are confirming that he has actually left the band to move on to something different. We are glad to know that there hasn't been any
"animosity or acrimony in his departure"
and we really wish him all the best for his career and personal life. It's been great to know you Shawn!!
And secondly, a new single is going to be released on August 3rd, and this time the choice is "Meccano". I wonder whether it's going to be re-released and whether there's going to be a new video... Uhm... in the meanwhile enjoy this live studio version!
Wow, that was quite a poignant post to be honest. So many exciting news all at once! Stay tuned for more news coming up!!